Researcher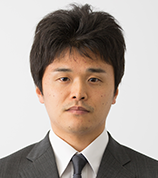 Tenure in FRIS 2022.4-2023.3
Masanori Wakizaka
Assistant ProfessorMaterials and Energy
Mentor Information

Professor
Tomoyuki Akutagawa (AIMR)
Research Fields
Coordination Chemistry, Nanomaterial Science
Research Subjects

Development of Sub-Nano Materials Science by Metal Carbide Clusters
Synthesis of Metal Carbide Clusters
Arrangement of Metal Carbide Clusters
Measurement of Metal Carbide Clusters

Academic Society Membership
Research Outline

Metal carbides are unique materials that have metallic and ceramic properties. Against to the bulk materials, sub-nanosized clusters can be sensitively affected by the interactions with a support, since almost all the atoms of clusters are located on the surface. This work synthesizes metal carbide clusters by using a carbothermal hydrogen reduction method (Nanoscale, 2020, Vol.12, pp.15814). This method produces metal carbide clusters at a moderate temperature, as hydrogen promotes reduction and carbonization of the precursors. Until now, iron carbide clusters were synthesized and revealed to work as magnets (RSC Adv., 2022, Vol.12, pp.3238). In addition, molybdenum oxycarbide clusters were synthesized and revealed to exhibit the revers-water gas shift catalysis which converts carbon dioxides to carbon monoxide selectively (Small, 2021, no.2008127). The important thing is "carbon", because carbonization has been revealed to enhance the catalytic activity. It was unknown for a long time what the central atom is in the molybdenum–iron cofactor; however, it was revealed to be "carbon" in recent studies. Hence, an organism has been using metal carbide clusters in the body, on the other hand, the mechanism has been elusive ever. This study tries to reveal why "carbon" through the study of metal carbide clusters.