Topics
Reactions observed under the microscope: Cooperative solid and liquid catalysts make better batteries
2020.03.03
Reactions observed under the microscope: Cooperative solid and liquid catalysts make better batteries

A joint team consisting of assistant professor Jiuhui Han at FRIS, Professor Pan Liu at Shanghai Jiao Tong University (China) and Professor Mingwei Chen at Johns Hopkins University (US) has discovered a synergetic effect of solid and liquid catalysts on boosting the energy efficiency of rechargeable lithium-air batteries. By using a state-of-the-art liquid cell transmission electron microscope, they have been able to directly visualize nanoscale interfacial electrochemical reactions in real-time and real-space. The operando observations uncovered the cooperative catalysis of RuO2 and TTF (i.e. model solid and liquid catalysts, respectively) in regulating the dynamic evolutions of electrode/electrolyte and electrode/Li2O2 interfaces. The insights gained from this study offer an in-depth understanding of Li-O2 electrochemistry and will facilitate the development of high-performance, next-generation batteries.
The work was published online in Nano Letters on February 20, 2020.
Publication Details
Chen Hou#, Jiuhui Han#, Pan Liu, Gang Huang, Mingwei Chen*, "Synergetic Effect of Liquid and Solid Catalysts on the Energy Efficiency of Li–O2 Batteries: Cell Performances and Operando STEM Observations", Nano Letters, 2020
DOI: 10.1021/acs.nanolett.0c00357
https://pubs.acs.org/doi/abs/10.1021/acs.nanolett.0c00357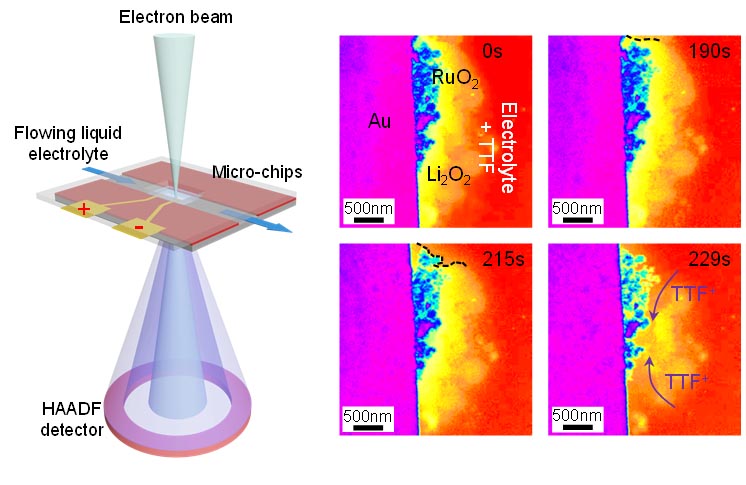 Liquid cell scanning transmission electron microscopy allows direct visualization of the interfacial reaction dynamics in a lithium-oxygen micro-battery.